Navigation for News Categories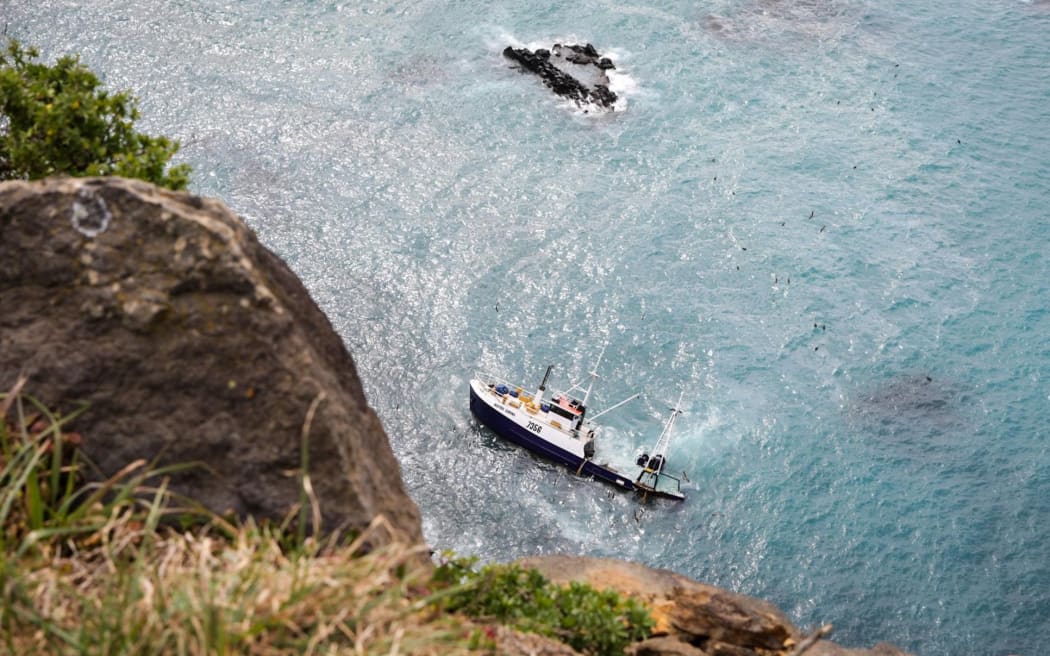 Fishing trawler the Austro Carina ran aground at Red Bluff, on Sunday, off Banks Peninsula, near a penguin habitat
Photo: Nathan McKinnon / RNZ
The owner of a fuel-laden fishing trawler that is grounded off Banks Peninsula is working on a salvage plan for the stricken boat and has promised to help manage the environmental impact of any spills.
Four crew members had to be winched to safety by helicopter when the 25m Austro Carina ran aground at Red Bluff near Shell Bay last Sunday night, carrying 10,000L of diesel and 400L of hydraulic oil.
The boat's owner Pegasus Fishing said it was working with authorities on the best approach to salvage the trawler.
"We are happy to confirm media reports that all our crew are safe and well, although they are still understandably shaken from the events of Sunday night," the statement said.
"While we cannot comment on those events (as there are investigations underway), we can say we continue to monitor the condition of the vessel and any diesel discharges from it, and are working with ECan [Environment Canterbury ], insurers and salvors on a recovery plan.
"We are conscious of the environmental impact of the grounding and we continue to offer whatever support we can to those who are working to manage the affects [sic]. It is a highly dynamic situation, but best efforts are being made to address the risks. Pegasus Fishing are assisting and cooperating with all the authorities involved. We continue to provide support to our impacted crew."
The area was home to protected taonga species such as the endangered hoiho/yellow-eyed penguin, kororā/little blue penguin, kekeno/New Zealand fur seal, upokohue/Hector's dolphins, and several other seabirds.
Environment Canterbury said it was continuing observation, monitoring and planning for various scenarios to minimise the impact of oil on the environment.
On Tuesday the regional council said no diesel had been seen on the water and there was no smell of oil or signs of oiling along the shore.
However, a wildlife response plan was being prepared, ECan said.
Maritime New Zealand and the Transport Accident Investigation Commission launched investigations into the circumstances of the grounding on Monday.
Fisheries New Zealand fisheries management acting director Rob Gear said the agency had no reason to believe the Austro Carina crew were in breach of any fisheries regulations.
"Before the fishing vessel became grounded, it had been trawling within an area with fishing restrictions in place. These restrictions, to the type of trawl gear used, are in place to reduce any risk to wildlife," he said.
"Fisheries New Zealand fishery officers have spoken with the company operators. There is no evidence to suggest the vessel was using unpermitted trawl gear."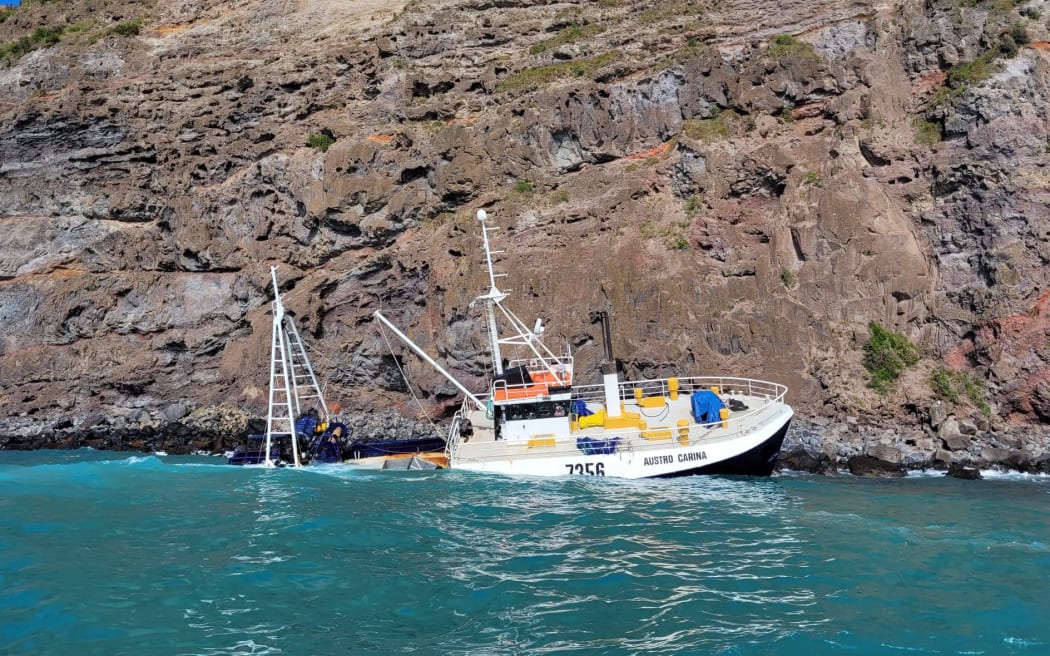 Austro Carina vessel wreckage at Shell Bay, Banks Peninsula.
Photo: Department of Conservation / supplied
Fisheries confirmed Pegasus Fishing was convicted and fined $8100 for non-compliant fisheries reporting in 2006.
Following a collision between one of Pegasus Fishing's boats and a bulk carrier at the entrance to Lyttelton Harbour in 2020, the company and its sole director Antony Threadwell last year agreed to an estimated $176,000 enforceable undertaking by Maritime New Zealand.
Pegasus Fishing was also one of several companies questioned in a Ministry of Primary Industries investigation into reports commercial boats were fishing in the Banks Peninsula Marine Mammal Sanctuary in 2013.
Threadwell told RNZ at the time neither his nor any of the other companies were fishing illegally.