On a cloudy, calm morning, waves lap the hulls of the gently rocking fleet of fishing boats.
Voices call through the dark, as engines rumble to life.
It's the first day of spring, and the first day of the southern rock lobster fishing season.
But for one fisherman from Beachport in South Australia, this season will mark 50 years at sea. 
Seafaring from Sicily to South Australia
Saltwater runs through David Dunsford's veins.
"Our story is a pretty special story really; my mother's family came out from Sicily by ship, landed in Albany and made their way to south-eastern South Australia," he says.
"My grandfather, Frank Corigliano, was one of 14 children; the product of an Italian father and an Irish mother – so a huge fishing family, and I was lucky they stayed here in Beachport."
David says his ancestors were pioneers of the southern rock lobster industry, which today contributes more than 30 per cent – or $158.5 million — to South Australia's seafood gross state product, and employs about 1,300 people through direct and flow-on business.
"My grandfather, who was born in 1901, started out in very simple little kuta boats, about 25-foot long and eventually onto 'larger' timber 55ft boats in the 1950s," he explains.
"They worked hard but they made nothing.
"My grandfather told stories about selling cray tails for threepence a pound – which, in today's money, is about 3 cents."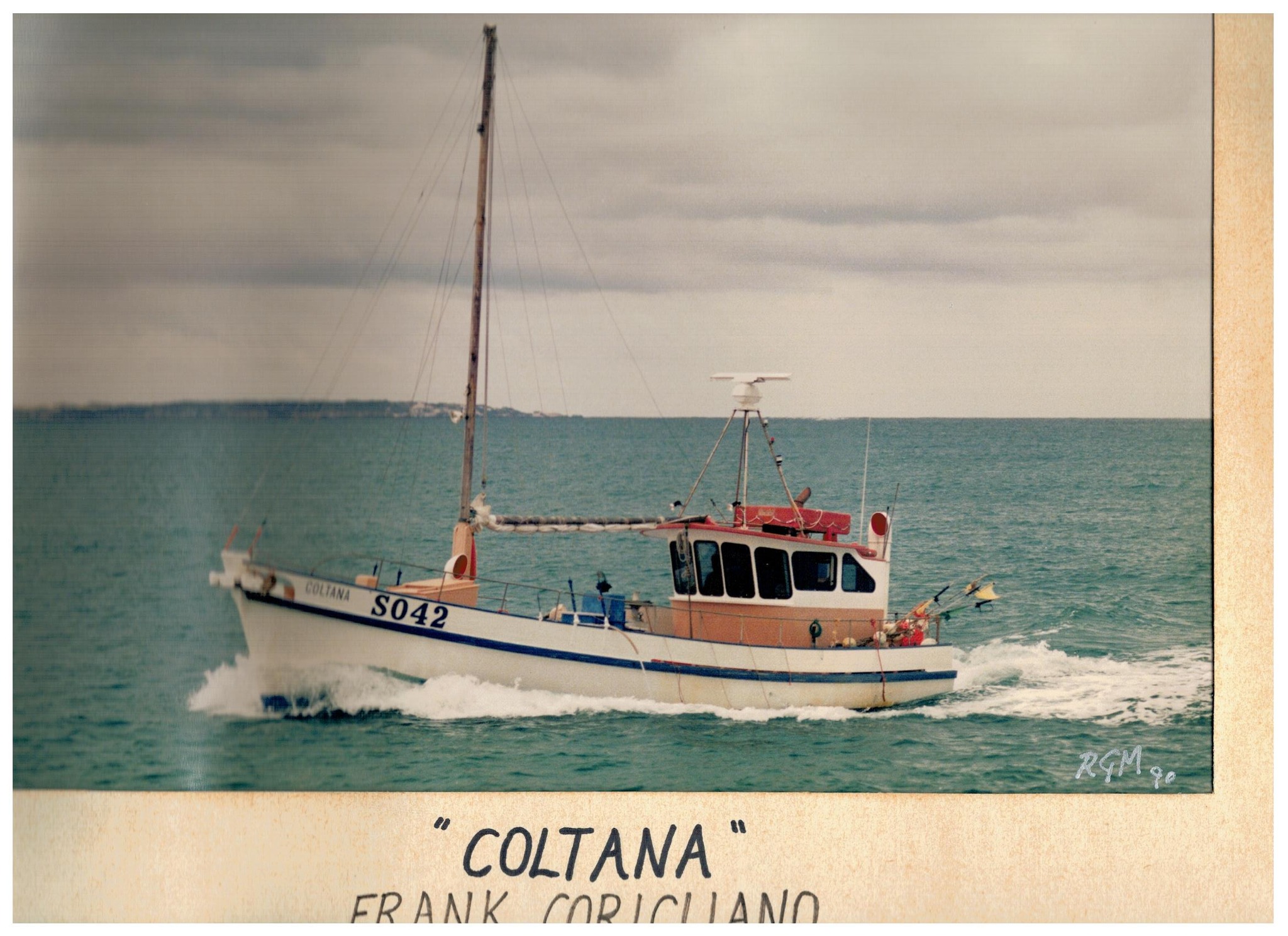 To help grow the industry, David's grandfather, Frank Corigliano, and other local fishermen, started the South Australian Fishermen's Cooperative Limited (SAFCOL) in 1945.
"Through SAFCOL, they started processing their fish and sending the crayfish tails to America," David says.
"They oversaw a lot of innovation and change in that era, and went from pulling pot lines by hand, to winches and finally hydraulics.
"We can hardly complain – we've had it pretty easy by comparison."
Growing up in "a loud, loving, laughing" fishing family, David remembers spending long days preparing fish, alongside his parents, aunts and uncles.
"We would all gather at one of the family houses, everyone was happy and always laughing and always telling stories about life at sea," he says.
"I can remember hearing about all the boats that would break their moorings here in Beachport because it's an open sea port and it can get pretty rough.
"The men would have to go into the water up to their necks and try to tow the boats off the beach with big long ropes."
Freezing hands, quick thinking and giant waves
David recalls the moment the die on his own fishing destiny was cast.
"I remember being at school one day, about 15, and my father said to me, 'David, it might be best if you come home'.
"My school bag became by lunch bag."
David joined his father, Ron, and his crew, on a 40ft timber boat.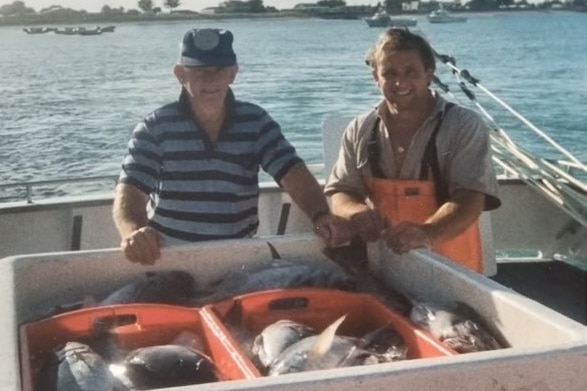 "When I started it was like a mentorship – I was told what to do and how to be so very careful, because the truth of the ocean is: one mistake can be your last," he says.
"Your life can be over in a matter of moments if you're not switched on."
He recalls his father telling him to "always have a sharp knife" on him, "because when you need it, you don't want to be hacking away".
David says despite the many seasons at sea, the tragic events of seamen lost still haunt his memories.
"I recall one fisherman whose boat went over on opening day," he says.
"We searched and searched and searched that day. I was only about 16, but I remember looking and looking to the point where you think you're seeing something in the water.
"You're searching that hard to find them, and you're hoping to find them, but in his case, he was never found. We did manage to find his crewmate however, which was a blessing," David remembers.
Folklore, superstition and nature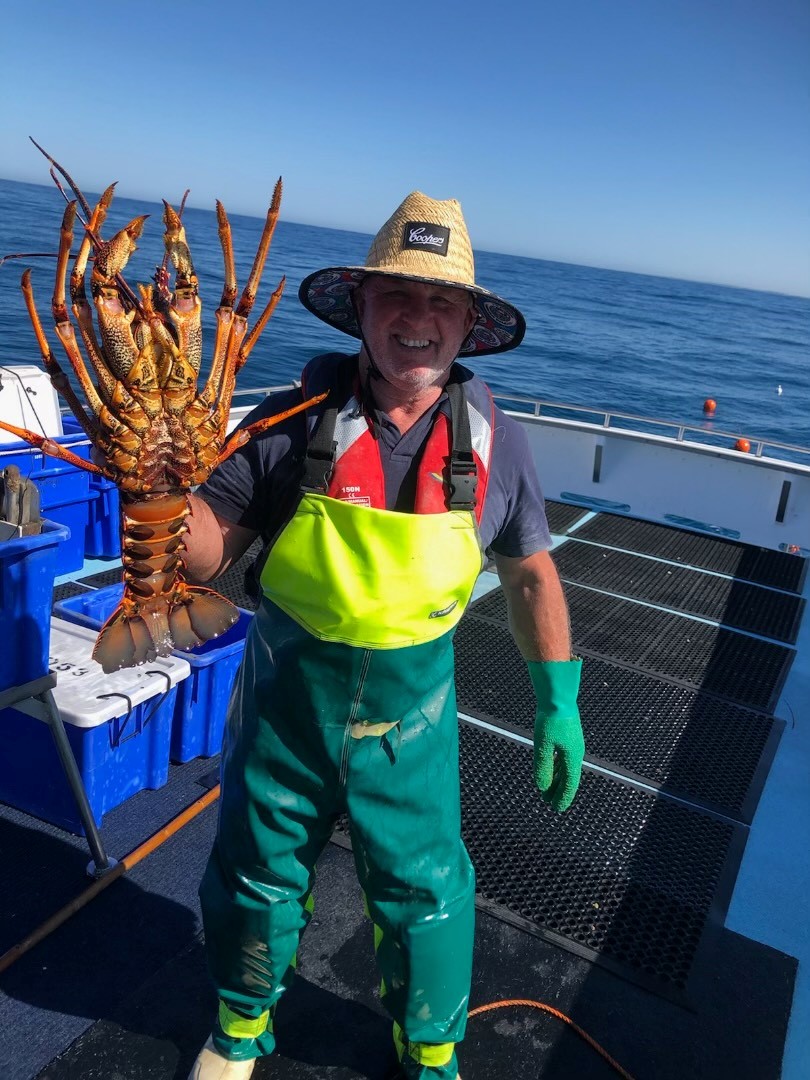 "We are people of the sea," says David, as he puts the final finishing touches on his boat, Ultimate Lady, in preparation for launch day.
"All the young men that are here today will become the same – when you leave the shore, you are truly with nature."
He says he "never tires" of seeing the sun rise, a whale break the water, or the thousands of dolphins that escort his voyages.
"You also learn to read the animal behaviour; in August and September, the mutton birds come out and when we see them, it could mean there is barracuda in that spot.
"We have little birds – we call them the storm birds – they dance on the water and when we see them we know that in about three days' time it'll come in rough," he explains of the fishing folklore known to those fishing these waters.
"And if you see the shell of a cuttlefish standing vertically in the water, that's a sign that about three days later the weather will come in hard again.
"Nature just does it on its own, and if you watch it, you can learn all the things you need to know.
"These are all things my father, grandfather and uncles — all lifelong fishermen — taught me."
Next generation learning the ropes, knots
"I've been lucky enough to travel around the world and look at other fisheries, but there's no question about just how special and unique an environment we have here," says David of the Southern Zone, a narrow strip of ocean running between the shoreline and continental shelf from Port MacDonnell to Kingston.
"It's one of the most pristine, untouched, areas in the world."
He says he is proud to see the younger fishers carrying the industry forward.
"When I was a young boy, I remember being on a shark boat around midnight in Backstairs passage, with waves crashing all around me. I was thinking I should have stayed in school!
"But it's been a wonderful life. My advice to young people who want to go fishing is to stay in school and get a trade, then you've got something behind you in case it's not the life for you.
"When you're out there and it's a howling gale, pouring with rain and your hands are frozen to the bone … you think to yourself, 'What have I done?'," he laughs.
"But we have to look to the next generation, and protect and build the fishery and have something that the future fishermen will be OK [with] and have a good future. That's really important to me."
A resilient industry
David says the industry, despite a "very challenging" three years after China imposed an unofficial ban on lobster imports, "still has a promising future".
"When I started in the 70s we were getting about $2.70 a kilogram for our crayfish tails and people would go to the factory and buy a small wheat bag of legs for $2.
"Crays were worthless.
"Then we were lucky enough to move into the live export of crays into Asia, which was pretty much the saviour of the industry and the making of the industry.
"The last three seasons have been very tough on the family businesses, and on the local industries that support us too.
"We've got our fingers crossed this season, hoping that China open the doors again."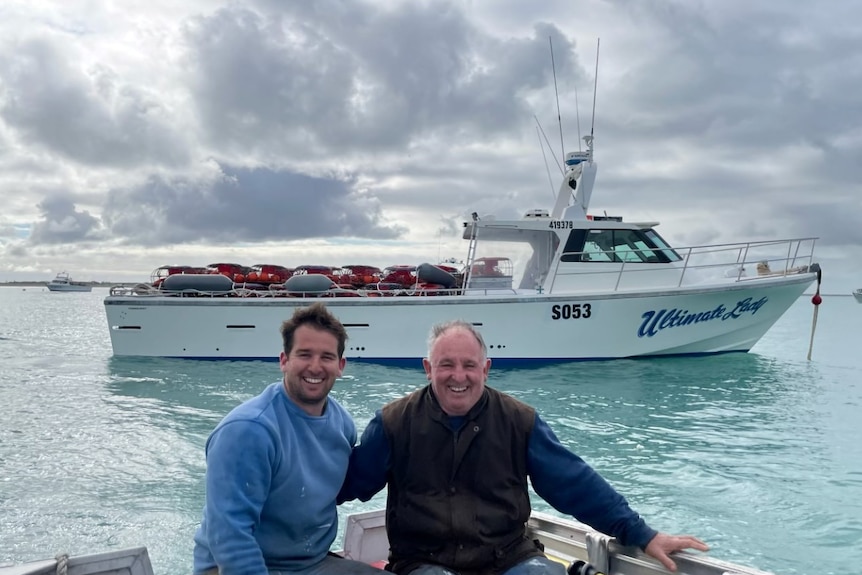 Like father, like son
This season, David's son Jack will again join him on the boat as a deckhand.
"I wanted all my children to do differently to what I did, so they all studied hard and have something behind them," David says.
"But to have Jack alongside me, heading out on the water together, it's a bit of a dream really."
Loading
Posted , updated