When a historic Port Lincoln wooden fishing boat sank on its moorings at Snooks Landing more than a year ago, its owner Mario Antolini cried.  
Key points:
The Almonta was built on the Sunshine Coast and used to catch salmon, tuna, shark and rock lobster
The vessel sank in Port Lincoln during October 2021 but its owner has been unable to finance its rescue
Its owner wanted to have the vessel placed on land in honour of the local fishing fleet history
He watched from the shore 100 metres away, unable to help as 60 years of stories and memories sank to the seabed.
Cars of people soon arrived and in his grief Mario saw they too were crying.
The Almonta was an early wooden vessel in the local salmon and bluefin tuna fleets of the 1960s.
It was a favourite for those who worked on its rich timber deck and netted huge catches of fish from the rolling southern ocean.
A saviour boat
The vessel had been retired to a mooring at Porter Bay and was a shadow of its former glory by the time Mr Antolini bought it nearly six years ago.
He had suffered a workplace head injury that ended his career working on overhead powerlines, so the Almonta was his salvation.
He rowed out every day to just spend time on "Ali", fishing and fixing bits of the boat with no intention of travelling in it.
Wooden boats take on a bit of water that can be pumped out but Mr Antolini said the trouble started when a yacht and its mooring hit the Almonta during a storm, damaging the hull and causing water to leak in.
The boat sunk two months later in October 2021.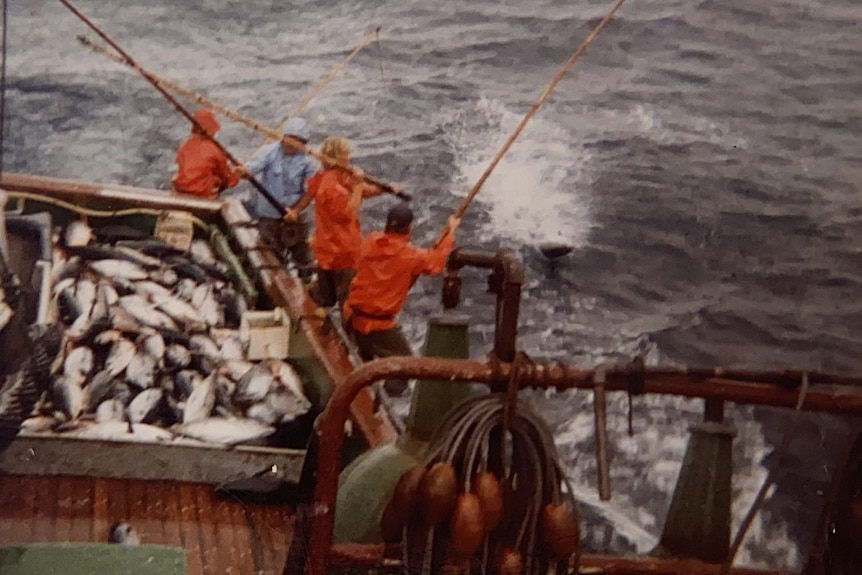 The Almonta remains on the seabed, its crow's nest and railings breaking the surface of the calm waters of Porter Bay and lilting precariously to one side.
The sorry sight attracts regular emergency calls from tourists worrying that a boat has sunk, and regret from locals that it has not been recovered.
Mr Antolini is an invalid pensioner and has been unable to organise the vessel's recovery.
He and others are renewing an appeal to have the boat preserved on land.
A rare beauty
Almonta was a rare boat from its beginnings.
It was built by Pat Vansleve from Queensland's Caloundra Shipbuilders and launched in 1966 for Port Lincoln salmon fisher Mike Buberis.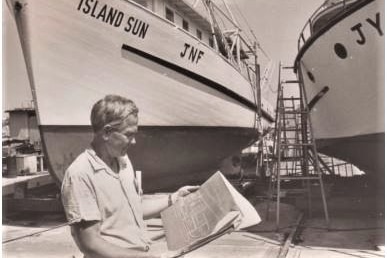 As a teenager, Neal Vansleve helped collect the Queensland timber his father, Pat, used to construct the Almonta.
"It's a bit of a shame it's lying on the moment bottom of the ocean at the moment because it was the biggest vessel built and still remains the biggest vessel built on the Sunshine Coast," Mr Vansleve said.
A photograph of its construction is in The Australian National Maritime Museum.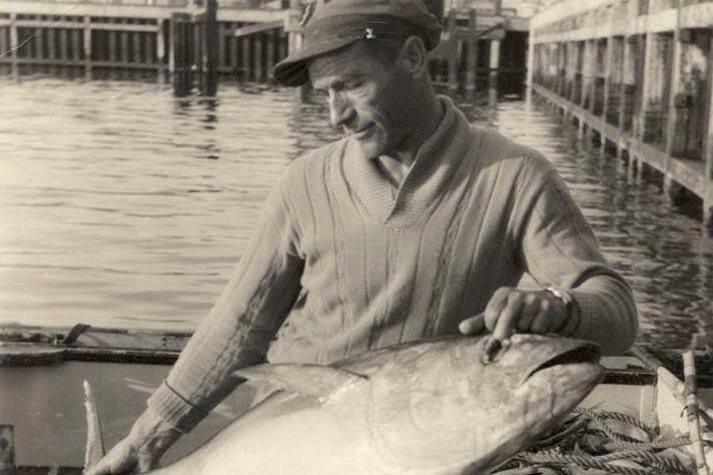 "I think the Almonta deserves to be retrieved, not restored but just as a display yard, protected as such … to attract the public and tourists so the story could be told," Mr Vansleve said.
He has questioned why the boat was still languishing as a shipwreck.
"Many times … I've thought, 'For goodness sake, if my father were still alive, he and I would be down there lifting it ourselves'," Mr Vansleve said.
"It is tragic. It's our history."
The Almonta was built from a similar design and fished alongside the historic Tacoma, which was moored safely in the Port Lincoln marina where a team of volunteers worked on its maintenance daily to keep it operational.
A depressing year for owner
There were plans and offers of help on a Save Almonta Facebook page but nothing eventuated.
Mr Antolini said he did not have the funds to slip the boat for repairs and could not find a permanent home for it on land, including at the local Axel Stenross Museum, which houses a model boat of the Almonta.
He said the past year had been depressing.
"I can't even go down there anymore," Mr Antolini said.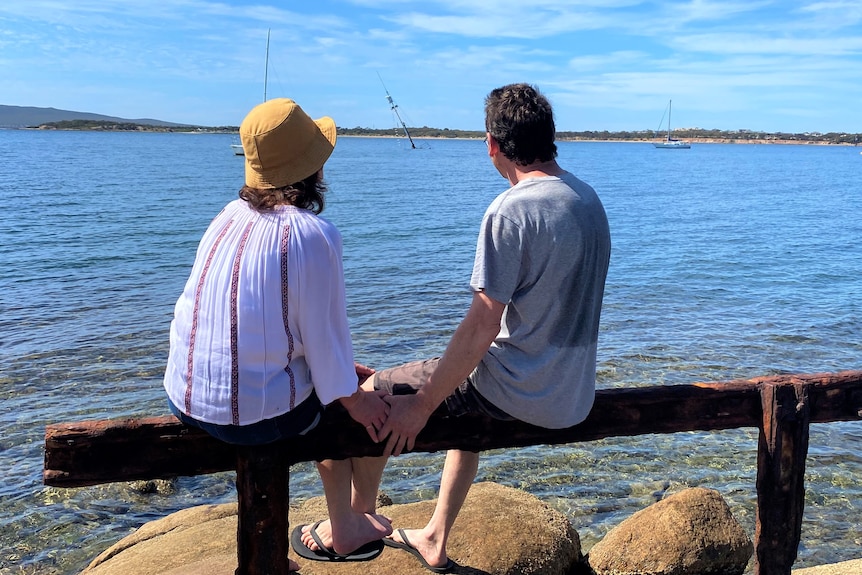 He said when he first arrived at Port Lincoln and saw the Almonta it reminded him of a childhood dream and was ecstatic to be able to buy it several years later.
He had no idea of its rich fishing history at the time.
"I didn't know anything about it. I just had a personal connection to it," Mr Antolini said.
"I couldn't wait to get up in the morning and go to the boat.
"I spent most of my time on the boat. People thought I was living on it."
His partner Tara Sinclair said the Almonta gave Mr Antolini a new lease on life.
Almonta book in the works
Geoff Collinson, who fished for tuna aboard the Almonta, is writing a book about the boat.
Mr Collinson said Mr Buberis first named the boat Salmonta,  but later changed it to Almonta to jump the queue in the daily alphabetically-scheduled radio safety calls to fishing boats.
He said Almonta Beach in the Coffin Bay National Park was named after the boat, which was a familiar sight as its fishers caught salmon.
The vessel was also the first to use automated fishing poling and trialled deep sea rock lobster fishing.
But for Mr Antolini, the boat was simply his muse, Ali.
Posted , updated