The commercial barramundi season may have started in the Northern Territory but some boats remain in Darwin because fishers have lost access to a major fishing ground. 
Key points:
The NT's commercial barramundi fishing season runs from February 1 to September 30
The industry has lost access to a major fishing ground for barramundi and threadfin salmon
Commercial fishers will require a Section 19 permit to operate in Aboriginal waters for the first time
Commercial and recreational fishers have been banned from the Mini Mini and Murgenella areas east of Darwin following a request from the region's traditional owners.
According to NT Seafood Council chief executive Katherine Winchester, up to 23 per cent of the Territory's yearly barramundi and threadfin salmon catch, or about 140 tonnes of fish, comes from those waters.
"For both the mud crab fishery and barramundi fishery, this is a really important area," she said.
"To lose the Mini Mini, Murgenella area almost wipes out the fresh fish on ice market to Darwin."
Ms Winchester said commercial fishers would have to fish grounds that were located further from Darwin, which for some businesses was not viable.
"For some of the smaller operators this is the only area they fish, so they're currently not earning any income, and their boats have not headed out [for the season]," she said.
"They are patiently waiting and hoping some solutions can be brokered."
NT's commercial barramundi industry in 2013 lost access to Finke and Chambers bays, which were even closer to Darwin.
Negotiations continue for 'new era'
Cameron Berryman from Wild Barra Fisheries is the new chair of the NT Barramundi Licensee Committee.
He said consultations were ongoing between the Territory government and Northern Land Council (NLC) regarding access to the Mini Mini and Murgenella.
"We're hopeful we can gain access at some point, but we respect the decision that's been made," Mr Berryman said.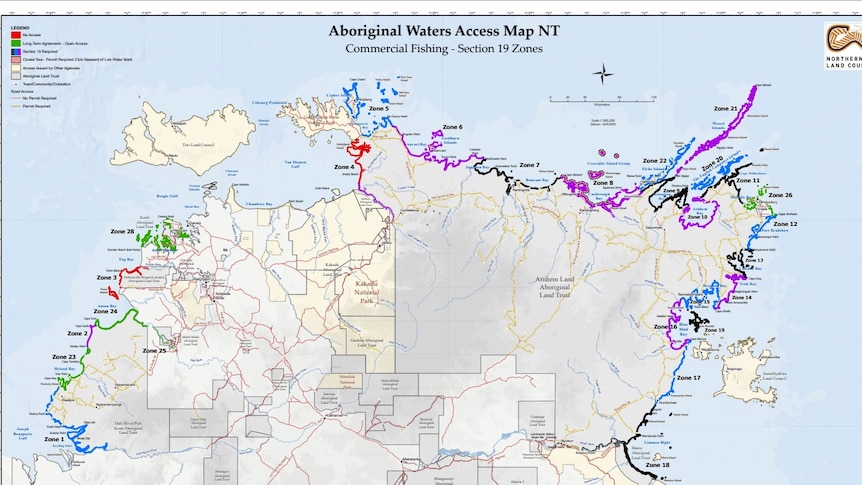 Mr Berryman said the industry was facing a number of changes, including a transition to obtaining Section 19 permits from the NLC in order to access intertidal zones on Aboriginal land.
The NLC has been contacted for comment but chairman Samuel Bush-Blanasi said in a previous statement that the arrangements, which started on January 1, represented the "start of a new era".
"Fourteen years after the High Court's Blue Mud Bay decision we are finally seeing the rights of traditional owners being respected," he said. 
"We will keep looking at the arrangements to make sure they reflect the legal rights and interests of the traditional owners of that country."