Shark fishers are defying bans along the West Australian coast in a quest for social media likes, as campaigners against the practice ramp up rallies for action.
Perth woman Lisa Hills is one of the leaders of the campaign against shark fishing and has said the main reason people took part was to get the perfect shot for social media.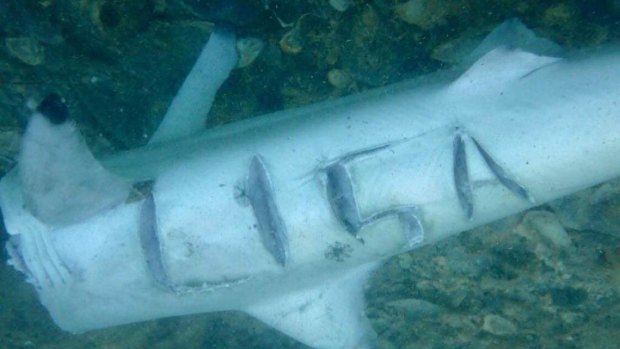 Hills has successfully campaigned to have recreational shark fishing banned at swimming beaches in Fremantle as well as 10 minutes' drive south in the City of Cockburn.
But she was recently sent an image of her name carved into a shark carcass left at a jetty in Coogee.
The state government has criticised the shark fishers who threatened her, describing what they have done as "totally unacceptable".
Loading
Fishers frequently leave shark carcasses and body parts around Ammo Jetty near Woodman Point in Coogee, in defiance of the ban, and a friend diving at the jetty saw the grisly message and photographed it to show Hills.
"I am definitely in shock. I have had people threaten to do something like this, but I never thought someone would stoop as low as killing a shark," she said.
"I have reported it to police and I do worry the next time they threaten me it could be with the knife to my neck. This incident shows what these people are capable of."
A Department of Fisheries spokeswoman said the government did not condone the apparent mistreatment of sharks and said fisheries officers would follow up to determine whether an offence had occurred.
"The way in which the shark was treated and discarded is totally unacceptable," she said.
"All fishers are encouraged to treat our fish stocks with a sense of personal responsibility and stewardship.
"We urge fishers to return any unwanted fish to the water as soon as possible with the least possible injury.
"The state government may consider, in consultation with researchers, relevant local governments, recreational fishers and other stakeholders, further regulation of recreational shark fishing at other popular swimming beaches along the WA coast."
Hills said the carcass of the shark would be left at the jetty, as there was no one in charge of removing the dead animals.
"There are so many each week it would be a never-ending task, even though it is illegal to shark-fish from the jetties within the City of Cockburn," she said.
"There are two types of shark anglers – the ones that do it for their ego … and then there are those who do so for social media and Instagram limelight opportunities.
"I have often seen evidence of pig carcasses weighed down by concrete and other marine life carcasses, including other shark body parts being dropped and used as bait to lure in larger individuals."
Hills said sharks of the type caught in the area were not eating quality, being full of heavy metals, and science showed that even if they were released, the process of them being caught and brought out of the water caused huge and potentially fatal levels of stress and trauma.
Hills is calling on governments to enforce shark fishing bans at state level, including banning taking the sharks out of the water before releasing them and banning berley and chum.
"I believe if we ban taking them out the water this sport will all but die out because a lot of people are only catching sharks to get a good photo for social media," she said.
"One of the major responsibilities of governments, at whatever level, is to ensure protection and well-being and long-term sustainability and welfare of its citizens and the environment.
"Action at a government level [regarding shark fishing], and on a meaningful, lasting note is needed urgently and is currently lacking."
Shark fishing is also banned at the state's famous Cottesloe Beach, and further north in the World Heritage region of Ningaloo, Shark Bay residents are also campaigning against shark fishing.
Follow WAtoday on Instagram, LinkedIn, Facebook and Twitter for handpicked selections of the day's biggest local, national and international news.