Navigation for News Categories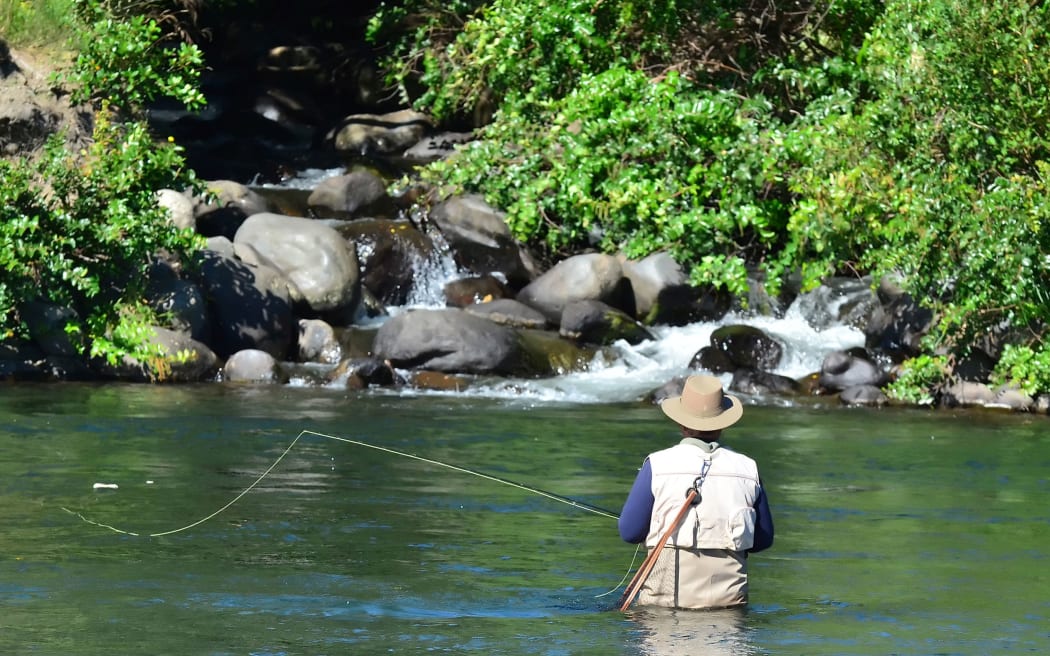 Fly fishing in the Tongariro River.
Photo: 123RF
After two tough, Covid-impacted years, professional fishing guides are expecting a bumper season in New Zealand with many having nearly fully booked calendars.
Overseas fishers contribute, on average, $1300 a day through accommodation, transport, meals and guiding costs.
President of New Zealand Professional Fishing Guides Craig Smith said fishing tourists did return last year, but there was hesitancy around planning ahead, and bookings tended to be at the last minute.
Smith said this year forward bookings were much stronger throughout New Zealand.
"People aren't leaving it to the last minute and we're finding it hard to find spaces now for people, which is really encouraging from our point of view. And tourism in general is looking really strong," he said.
Smith said the highest number of visitors were from Australia, but the United States and United Kingdom were also important, as were expatriates living in Asia.
Most anglers were in the "older" age bracket he said, with many 50-plus, but guides who had been around for a while were seeing an interesting trend.
"They're now bringing their children back, introducing them to fishing, so (we are) getting a younger batch coming through."
This was "all good" for New Zealand, because generally they would not come here if it were not for the fishing, he said.
"While they might fish for four or five days with one of our guides, they will also stay on and maybe do a week or two looking around New Zealand."
The anglers are mainly fishing for brown or rainbow trout and some salmon.
Smith said although fish populations were generally good, the aim was for a sustainable fishery and guides would report any changes they noticed to Fish and Game.
NIWA has declared the arrival of El Niño, which will dryness to the east of the country and more rain in the west.
When it came to the prospect of a hot summer and rivers running low, Smith said: "That's why people get a guide – we know where the fish are and give the angler a good experience."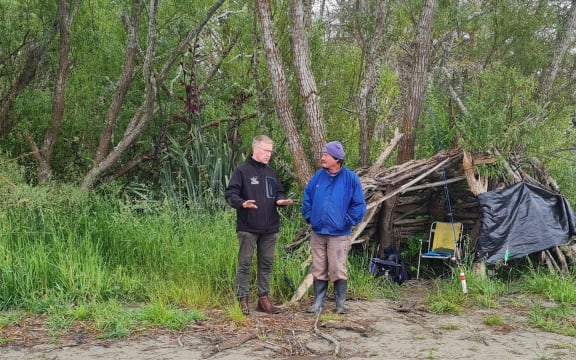 Fish and Game's Richard Cosgrove, left, talks with an angler near the Waimakariri River mouth.
Photo: RNZ / Cosmo Kentish-Barnes
Fish and Game was expecting to issue around 130,000 licenses this season, of which around 10 percent would be for international tourist fishers.
Spokesperson Richard Cosgrove said many anglers were already out enjoying the season.
He urged fishers to check, clean and dry equipment between waterways to prevent the spread of invasive species, like gold clams whose spread had closed fishing at Lake Ōkataina, a popular Bay of Plenty fishing spot.