The Town of East Fremantle has voted to ban shark fishing from the Swan River foreshore within council boundaries, following the death of 16-year-old Stella Berry in a shark attack earlier this month.
Key points:
Town of East Fremantle councillors have voted to ban shark fishing from the Swan River foreshore within the town boundaries 
The move comes after 16-year-old Stella Berry was killed by a shark in the river earlier this month
Photos purporting to show a large bull shark caught and released in the river were also a factor in the decision
The week of Stella's death, photos emerged of a large bull shark purportedly caught and released from the river at the East Fremantle boat ramp just days before the attack.  
"It's never been an issue for us in the town regarding the river, but in the last few weeks it's become apparent that we need to address it," East Fremantle Mayor Jim O'Neill said.
Stella's death was the first fatal shark attack in the river in 100 years.
Perth man Cameron Wrathall was severely injured in an attack by a bull shark while swimming in the river in the suburb of Bicton in January 2021.
$500 fine for shark fishing
East Fremantle's shark fishing ban follows similar restrictions introduced by the City of Fremantle on its beaches and at the mouth of the Swan River.
The City of Cockburn and the Town of Cottesloe have also banned ocean-based shark fishing in recent years.
The East Fremantle restrictions will be advertised for six weeks before they come into effect, after which fisherman caught flouting the law would be fined $500.
"I would hope that … the moment it's enforced, or it's adopted, that would dissuade people," Mr O'Neill said.
"I think most people would be fair and reasonable to say, 'Look, you know, this isn't a safe activity'."
Safety front and centre 
Mr O'Neill said the new local law would be enforced by the city's rangers, based on tips provided by members of the public.
"East Fremantle's a small area, there's probably only a few places you can fish," he said.
"One of those was allegedly where the young teenager was fishing two weeks ago."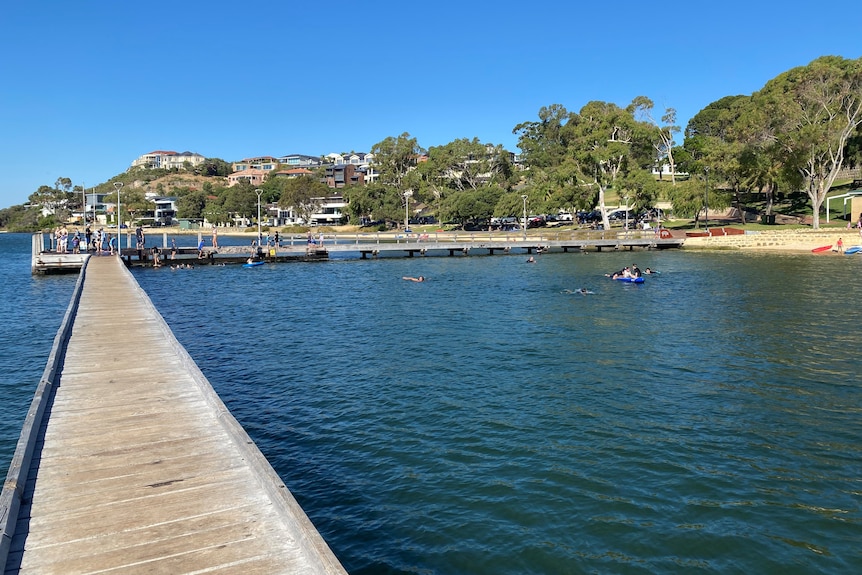 Following Stella's death, the state government has committed to building a shark enclosure at Bicton Baths in the adjacent City of Melville, and will extend funding for the barriers to rivers as well as ocean beaches.
The City of Fremantle will also discuss the possibility of building a new shark barrier at its February 22 council meeting.
Mayor Hannah Fitzhardinge said she never expected when she was elected to see two fatal shark attacks at Fremantle-area beaches.
Perth man Paul Millachip was killed in a fatal shark attack at North Fremantle's Port Beach in November 2021.
"People are feeling a bit nervous about going in the water," Ms Fitzhardinge said.
"There are some people who say, 'I didn't want to swim at the beach and I used to swim in the river. Now, I don't feel comfortable going in the river either'.
"So it's something we want to look at."
Councillors will vote at a meeting later this month on a recommendation to appoint a consultant to identify possible locations for a protected swimming area.
Posted , updated